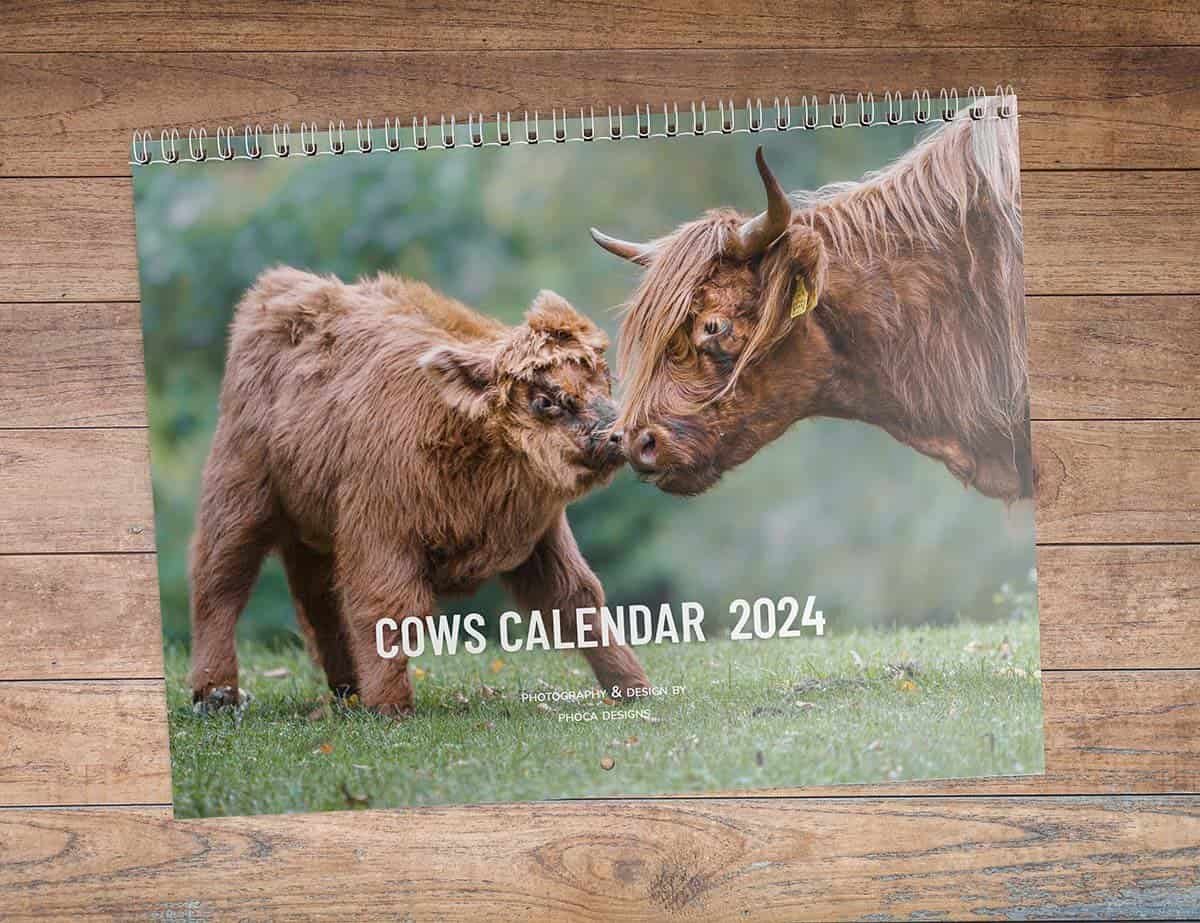 Cow Wall calendar (ENG) 2024
Cow Wall calendar (ENG) 2024
Experience a year of pure moo-tivation with our A4 Cows Calendar 2024. Captivating images, spacious calendars—your daily routine just got an udder upgrade! 🐄✨ Order now for a dose of bovine beauty!
Introducing our A4 Horizontal Double-Page "Cows" Wall Calendar for 2024 – a delightful fusion of functionality and bovine beauty! Elevate your wall space with this unique calendar that seamlessly blends practicality and aesthetic pleasure.
Key Features:
1. Stunning Imagery: Immerse yourself in the captivating world of cows with a full-page image for each month. From idyllic pastures to charming barnyard scenes, our carefully curated collection showcases the grace and charm of these gentle creatures.
2. Clean and Clear Calendar Pages: The adjacent page to each image features a spacious and easy-to-read calendar for the month. With date boxes, you'll have space to jot down important appointments, reminders, and notes. Stay organized while enjoying the visual feast of bovine beauty.
3. High-Quality Printing: Our calendars are crafted with precision and printed on high-quality, durable paper to ensure that each image is vibrant and true to life. The glossy finish adds a touch of sophistication, making it a perfect addition to any home or office space.
4. A4 Horizontal Double-Page Layout: The A4 size and horizontal double-page layout provide a panoramic view of each stunning image, making it a focal point on your wall. The format offers an ideal blend of functionality and aesthetics, catering to both the practical and artistic sides of your personality.
5. Perfect Gift: Share the joy of "Just Cows" with friends and family! This calendar makes for a thoughtful and unique gift for any occasion. Whether for a fellow cow enthusiast or someone looking to add a touch of nature to their space, this calendar is sure to delight.
Make 2024 a year filled with the serene beauty of cows. Order your A4  "Cows" Wall Calendar today and transform your space into a haven of tranquility and organization.
Product Specifications
Size:  A4 horizontal (21 x 29.7 cm)
Two pages for each month (one with the image and one with the month view), has one cover page and one back page, printed on double sides, 13 sheets in total.
A regular spiral with no hook on top.
A small hole is punched through all sheets within the calendar for hanging. The hole is positioned approx 1.4 cm from the edge of the calendar.
When hanging on the wall, the calendar is unfolded so the size is doubled.